Image of a Miracle's goal is to provide your family with an experience that is joyful and entertaining. We provide pictures and video that you will treasure forever. We encourage you to bring family and friends to experience this miracle as you enjoy our friendly and relaxed atmosphere.
8-38 weeks
Hear Baby's Heartbeat
Measurements of Baby
Position of Baby
Complimentary 2D Pictures (black and white)
*No Gender or 4D with this service
2D Gender Determination
$39
Starting at 14 weeks (recommended after 14 weeks)
Hear baby's heartbeat
Measurements of baby
Determine Gender
Complimentary 2D pictures (black and white)
*No 4D with this service
(4D Ultrasound)
15-34 weeks
Free DVD set to music
Free printable CD with all images
Complimentary Black and White pictures
Complimentary Color pictures
Why 3D/4D?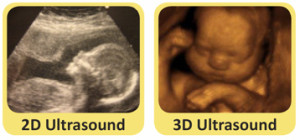 You've felt him move, she has a great kick, now you are wondering what your new baby looks like. Will he have Mom's nose or Dad's chin? The technology and imaging experience found at Image of a Miracle allows families to see their babies with amazing clarity using state-of-the-art GE ultrasound imaging. You can see your baby yawn, hiccup and smile and we capture these moments on DVD and in photographs. We invite you to experience this miracle in our warm, family-friendly studio.